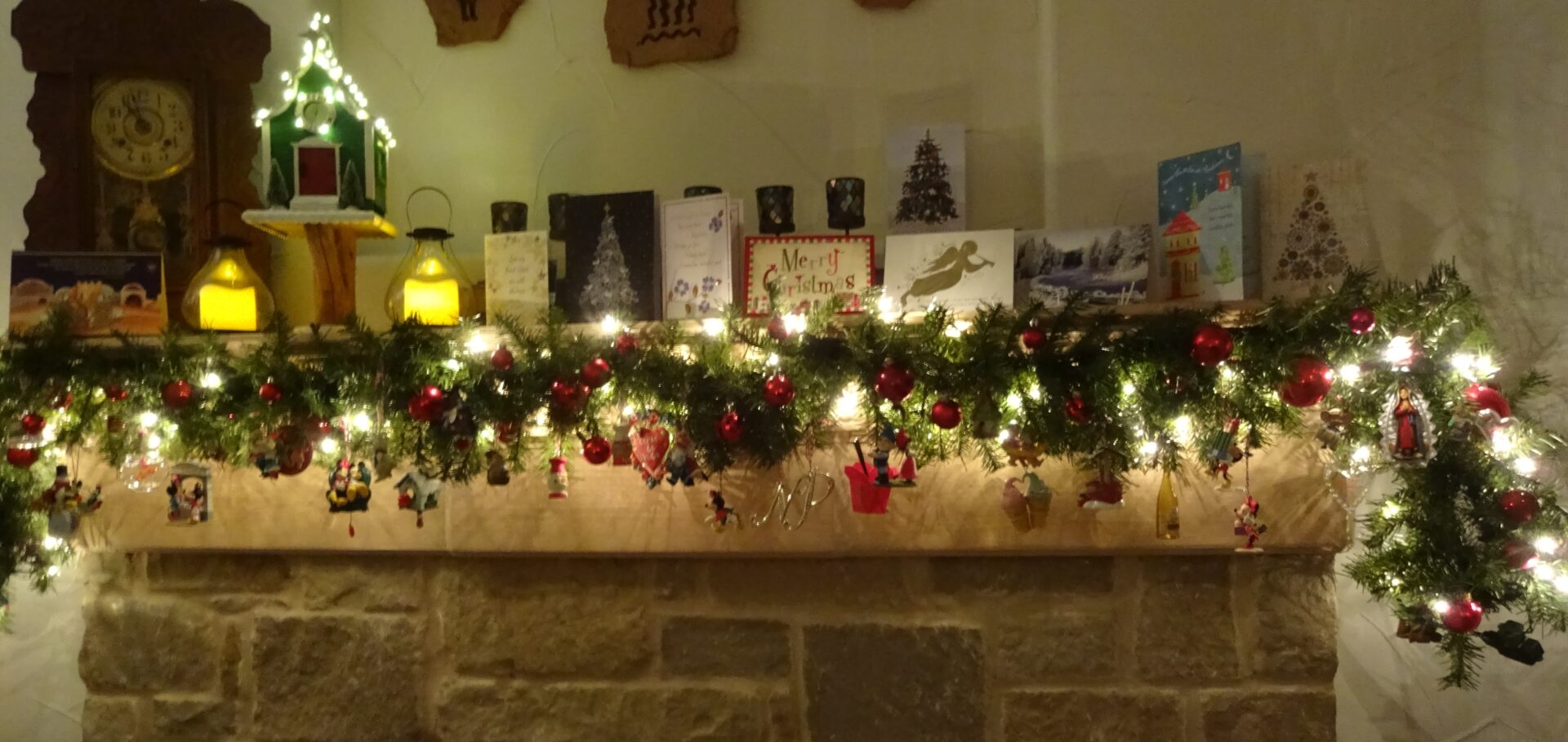 It was days before Christmas and if you came to my house,
you would see nothing festive–according to my spouse.
The tree, the lights and each tchotchke he remembered,
were trapped in the attic with a bad memory from September.
At a Christmas gathering (way over my head)
I'd crafted a garland that filled me with dread.
I tied and wired hopes and ornaments to it.
And when that didn't work, I just hot glued it.
What was I thinking when I went to that party?
No part of me was crafty or arty.
While my friends held up their projects for all to see,
I looked down at my garland thinking this cannot be.
Two hours I'd been there, two burns and a cut.
A piece to be proud of?  I had anything but.
That ugly garland was a bad start to the season.
But my Christmas sadness had other
reasons.
Every light and song seemed to just make it worse.
I was  starting to think this funk was a curse.
I was sad for loved ones who (this Christmas) would be missing.
And for those around me who were fighting, not kissing.
Comparing my sorrow to other Christmases I'd recall,
there was simply no reason to be joyful at all.
So I went for a walk and when I returned,
in the middle of the floor lay that  garland I'd spurned!
"Every ornament you love, you put on this thing,"
said my husband in a voice that would make angels sing.
"It seems like a waste not to hang it somewhere."
Then he picked up one end and nodded 'over there'.
He carefully unfolded each bough with a twist.
And as it came out of the box, I saw places I'd missed.
There were gaps between snowmen you could fill with a house.
And in Mickey and Minnie's sleigh, there  was only one mouse.
He moved toward the mantle, while I stood there dumbfounded.
The closer he got, the louder my heart pounded.
He nodded to the box with more garland inside.
"Just pick up that end",  he said, "and I'll guide."
I told him I was clueless, that I didn't understand.
He was doing so well, why should I lend a hand?
Tell me exactly what you want, so I don't make mistakes.
Cause this garland will only get uglier when it breaks.
And with a sigh of a man who'd had all he could take,
"PICK!"
"IT!"
"UP!"
came out of his mouth like a quake.
I laughed so hard I could barely stand it.
I'd loved every second of being reprimanded.
Once the garland was up and Mike straightened and tweaked it,
he gathered broken ornaments and became Mr. Fix It.
The greenery, the memories and the twinkling of lights,
was a beautiful tribute to past Christmas nights.
When I added the candles and cards we'd received, I felt a little joyful and Mike seemed relieved.
I went to my office;  started working on my list.
Writing cards, addressing packages and other tasks I had missed.
I gathered my things and left with a smile,
to a place where I knew I'd be standing a while.
I drove quietly to the post office, no music or songs. Were there many people when I got there?
Oh yes, there were throngs.
I parked in a spot just a half mile away and kept telling myself
'You don't have to stay.'
The line in the building wrapped around itself twice and I didn't expect to see anything nice.
All sorts of people stood with me that day.
We didn't have a choice. There was no other way.
There were suits and yoga pants and some wearing heels.  There were people with phones and
strollers on wheels.
But in the two hours we stood there that day, nobody opened their own door- either way.
Spots were left (without being told)
for those who came in and went out into the cold.
Kindness came so easily, we applauded ourselves.
And twice we sang carols like happy little elves.
If I'd not seen it myself, I would never have believed it.
But I'd just witnessed joy come right where it was needed.
As I walked through the parking lot, I heard someone shout:
"Can I help you with that?"
so I turned about.
As one woman unloaded things from her car,
another insisted the walk was too far.
"Oh, I can make two trips," she shouted right back.
"Don't be silly, it's Christmas."
And that ended that.
When I drove past my house, the outside lights were in place.
And instantly I felt a smile on my face.
In front of the window stood our tree in its glory.
I should have known that Mike would finish this story.
The rest of the evening we spent soaking it in,  how something so beautiful came from a caring within.
And I thought to myself, as he turned out the lights:
"Every Christmas is Merry, when we look at it right."